What is the difference between a McGill Method Master Clinician and a McGill Method Certified Practitioner?
McGill Method Master Clinician: Has attained the highest level of clinical competency and has the full confidence of professor McGill to assess the pain mechanism and show the patient how to stop the cause of their pain, then how to build a foundation for pain-free movement.
McGill Method Certified Practitioner: Has attended McGills clinical courses and passed a knowledge competency test. They have not been assessed by professor McGill in their ability to create successful patients.
McGill Method Master Clinicians Around The World
The following people have been trained by professor McGill to perform a proper McGill assessment of your Back Pain. The assessment is designed to result in a specific diagnosis of your pain triggers (at least in 95% of people). Then, based on your specific triggers, you will be guided to avoid the triggers and allow the pain sensitivity to decrease. This will be followed with a specific exercise plan to build a pain free foundation for movement.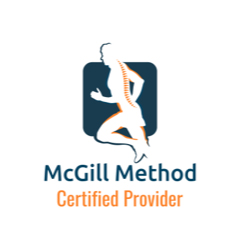 Legal Notice:
Backfitpro Inc. assesses the competency of the McGill Method Master Clinician with McGill's original material. Backfitpro Inc. is not responsible for the Master Clinician's decisions and actions with individual clients/patients.
Certification from Backfitpro Inc. is the only certification recognized by Backfitpro Inc., please look for this seal of authentication.
If you are unable to find a McGill Method Master Clinician below in your area, you may find a person at our McGill Method Certified Practitioners.
---
Note: Professor McGill has a very limited ability to see patients. Typically his clinical time is spent with athletes and challenging patients who have failed all traditional approaches. Please inquire with a highly qualified McGill Method Master Clinician below.