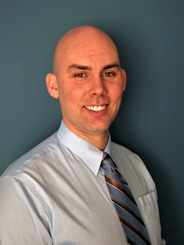 Dr. Cambridge has studied with Professor McGill for the past 6 years while completing his PhD. His thesis is entitled "Hip & Spine Mechanics – Understanding the linkage from several perspectives from injury mechanisms to rehabilitation". This work is focused on understanding this relationship through both normal and injury mechanics of the linkage and is comprise of a combination of biomechanical modelling and experimental research.
He is an outstanding instructor and highly competent with the scientific history that is the foundation of the McGill approach. He has taught with Professor McGill internationally for the past 5 years. He is also an excellent diagnostician with a Doctor of Chiropractic degree prior to his years working side-by-side seeing patients with Professor McGill in the University research clinic. He teaches McGill 1, McGill 2 and the Back Mechanic course.
Feedback
Testimonials for Dr. Ed Cambridge
Dr Cambridge blew me away with his knowledge, teaching skills and humor. Great skill development together with evidence to back it up.
***********
Have been to several McGill methods courses, first time with Dr. Cambridge and he exceeded expectations.
***********
Dr Cambridge was truly an expert in the subject area. The information he presented was unbiased, and I felt this over and over again, he was objective, fact based and data driven which I truly appreciated.. He was a confident presenter but not an egotistical one. I also really appreciated his willingness to take the time to answer questions. I have been to other seminars where there are many questions but the presenter has not allotted any time for them and you leave with them unanswered. When Ed took the time to answer questions you really felt like you understood the material completely. He was not afraid to say "I don't know" when appropriate.
**********
Dr Ed Cambridge is very technical and very patience to explain everything.
**************
He was knowledgeable, interesting and enjoyable to listen to.
************
Excellent grasp of the material.