Are you a
clinician/practitioner


or a

back pained person

?

Click on the appropriate portal

(either you suffer from back pain, or are a clinician wanting access to evidence-based skills).

CLINICIAN/PRACTITIONER >

BACK PAINED PERSON >

JOIN WITH US
This website provides evidence-based information and quality products that help to prevent and rehabilitate back pain. All back pain has a cause. Professor McGill dedicated 32 years to investigating how the spine works, the mechanisms of pain, and proven ways to eliminate pain and restore pain-free activity.
The key to pain-free activity is to assess the pain mechanism and employ a matched therapy. Some pain sufferers can perform this themselves with guidance from the book Back Mechanic. Others are more challenging and obtain clinical expertise from highly trained clinicians listed on the providers page. Clinicians can also access Professors McGill's latest books and videos guide the assessment together with providing helpful information and rehabilitation approaches for pain-free activity and optimal back performance.
His approaches have restored the lives of thousands of people like yourself. In addition, his work is well known among public celebrities and athletes worldwide for assisting them to be successful.
Backfitpro Updates
Sign up for the latest podcasts and interviews with Stuart McGill, course announcements, book and video releases, and newly announced McGill Method Providers or certified individuals.
Ted Kerasote, Wyoming, USA (Author of some of my favourite books)
My back has been excellent.  All your advice, my continuing the Big 3 core exercises, and the auto mechanic's stool for my desk have brought about a profound change in my comfort and ability to resume the things I love to do, like hike, ski, and write for long hours.  Your advice on recuperating from my lower back surgery was also invaluable.
From not being able to walk more than ten minutes without numbness in my right quad (and having to stop and find a convenient rock or bench to hang from), I've gone to hiking more than six hours at a stretch while carrying a 25-pound hunting pack and climbing and descending a thousand meters.  I'm thrilled.  Thank you!  Thank you!
I've been recommending Back Mechanic left and right.
(Photo by Heather Erson)
Michael De La Pava ~ Strongman competitor and Owner The Battle Axe Gym, Florida
To Brian Carroll and Professor McGill
I wanted to send you this video to thank you. Having worked with yourself and Brian and implementing the ideas and principles that you instilled in my training and coaching, has absolutely changed my life. Here I am log clean and pressing 300 pounds after starting "Back Mechanic" and "10/20 life", 21 months ago.. after being told I would never overcome my devastating back injury. Thank you for everything.
Ethan Bowman, North Dakota State Champion wrestler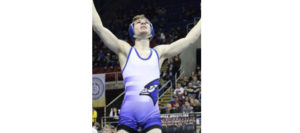 Thank You Dr Ed Cambridge (McGill Method provider)
This last weekend Ethan punched his ticket as a ND state champion. We want to thank you for your professionalism and very kind and generous heart, you gave up and above what any Doctor would have given. My wife and I along with Ethan want to thank you for a job well done.
Shawn Bowman 
Howard M. Armitage ~ World champion

This week I won 75+ age division at the World Masters Squash competition. This would not have been possible if I hadn't had the good fortune of encountering Dr Stuart McGill.  Having previously broken my back twice, I had reached a stage of desperation characterized by constant pain, utter fatigue, inability to sleep and an almost total loss of quality of life. Visits to GP's, specialists, chiropractors and physiotherapists were not helping and actually making my symptoms worse. Opioids and surgery were on my horizon (when faced with constant pain, you are willing to try anything).  At that point, I was able to get an appointment with Stuart McGill, a renowned lower back expert at the University of Waterloo who was treating professional athletes for various types of serious back issues.
The rest is history. I went from someone who couldn't sleep, couldn't walk, couldn't smile, and who couldn't think of anything other than pain to someone who began to walk again, smile again, bicycle again and, unbelievably, to start playing squash again.  So this first thank you is to you, Stu, for your dedication to science and for making me whole again. As you know, I have since become a McGill disciple whenever I see or hear of someone with lower back pain.
US Army Ranger, 2018
First I want to say thank you for sharing your story in your book Gift of Injury. I was in Texas a few months ago, and Ed Coan told me to read your book. It has given me a new outlook and helped me get back on track. On top of being a powerlifter, I am a 22 year still serving Army Ranger that has been jumping out of planes since 1996.
My spine has endured a lot of impacts. In the last few years, I have slowly gotten worse and got to the point of giving in to the medical professional of looking at getting cut or even being medically boarded out of the Army. I was looking for answers and solutions, and none was there but ones that make me live a life that was not what I wanted.
Eight months of Physical Therapy with direct attention from the doctor did nothing. Following your plan, o
vernight my pain was put in check, reduced immensely, my back felt relaxed and not like I was one move away from getting a major surgery.  Life feels better once again. I am religious about doing my Big 3 twice daily and getting my walks in. I started lifting again and has got back on track after taking months off. I thank you (ed: Brian Carroll) and Dr. McGill for this.
C.D.
Cathryn Jakobson Ramin / American journalist, investigative reporter, and author.
Cathryn Jakobson Ramin, in her back pain industry expose book "Crooked", calls Professor McGill a "Back Whisperer" with his approaches proved to help so many.
Ed O'Neill
/ Actor and Star of "Modern Family" and "Married with Children"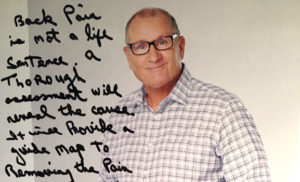 "I had low back problems affecting my ability to work and enjoy life. Then I found Stuart McGill and his book Back Mechanic. I was guided on things to do (and not do) and my pain is gone. Professor McGill just makes sense. And he backs it up with science not guess work. I'm giving him and his book Back Mechanic the highest recommendation."
Blaine Sumner
/ "Champion of Champions" IPF world record holder and highest Wilks score in powerlifting history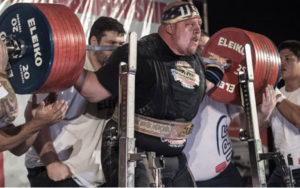 Before understanding Dr. McGill's work, I thought my back injury meant the end of my lifting career. Since absorbing all of his knowledge and applying the lessons in this book to my daily life, my career has been restored. I am stronger than ever – and taking my back health to new heights.
Bill Parisi
/ Director of the Professional Football Strength and Conditioning Coaches Association

"Dr. Stuart McGill has performed more ground-breaking research than anyone else.  His 350+ published studies on back pain and enhancing performance has revolutionized the fitness industry on how we train the core and create top level performance. His books and programs have been life changing for me, my athletes and anyone I share his information with.  And it will be life changing for you as well!"