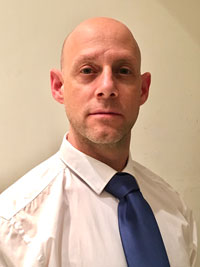 Mr. Proskewitz has worked with Professor McGill for the past 12 years learning his approaches for assessment and performance training. He is a master trainer based in London UK. Professor McGill regularly refers difficult patients to Joel who assesses the individual to reach a precise diagnosis. Then an appropriate strategy to eliminate the pain triggers to wind down sensitivity is coached. This is followed with an exercise progression to create a foundation for pain-free movement. He has taught internationally with Professor McGill for the past three years. He teaches McGill 2, McGill 3 and the Back Mechanic course.
Feedback
Testimonials for Joel Proskewitz
Patient Testimonials
In 2017 I unfortunately suffered a severe disk prolapse (L4/L5) which sadly led me to having 2 (almost back to back) surgeries. After a few months of recovery I was scared to start training again and thought I would never be able to be as active as I was before the surgeries. However I realised I already knew the best person in the business to get me back on track and had a consultation with Joel. He then took me through a specific and individualised program and explained the "whys" and the "hows" of each and every exercise.
Over 2 years on I am stronger than ever and my injury has not limited me at all, I have simply learned what I should do and how I should do it and have applied that knowledge consistently.
Joel's care, knowledge and expertise is next to none and I could not recommend him enough to anyone needing some professional low back advice.
– CB, London, UK
***********
"Persistent low back pain led to a diagnosis of L5-S1 disc bulge which just refused to heal. After months of terrible pain and discomfort, including neural symptoms down my leg which only received temporary relief from physio treatments, numerous surgeon's advised an operation. Just before I took the plunge to go under the knife – which I really didn't want to do – to my great fortune, friends urged me to have consultation with Joel Proskewitz; further great fortune followed when Prof Stuart McGill was present when I attended PerformanceRx. That day changed my life. Joel and the Prof gave me a thorough examination which categorically identified the cause of my pain and Joel started me on a course of specific movement and strength based exercises. Slowly, my pain started to ease under Joel's careful supervision of my exercise plan. After a few months I was moving pain free and gaining confidence that my problem would not return. 4 years later and having seen Joel and his wonderful colleagues weekly ever since, I'm back playing tennis and moving and sitting without discomfort. I have recommended Joel and PerformanceRx to many people and will continue to do so in complete confidence that they too will receive the very best of diagnosis and help."
— Neil Blair, London, UK
***********
"After being diagnosed with L4-L5, L5-S1 disc bulges at 19, followed by 6 months of back discomfort, neural symptoms down my leg and unhelpful advice from several practitioners, I booked a consultation with Joel Proskewitz. He identified my injury, pain triggers, hip structure and taught me how to perform movements in a spine sparing manner suited to my anatomy. I noticed fast, significant improvements within days of following his prescribed exercise plan and advice – it's safe to say that Joel has altered my approach to training for the better. I am now training frequently, playing sports and more importantly I have a blueprint for remaining free of back pain. I feel confident knowing that any queries or questions that I may have, Joel will be able to help in a refined, expert manner."
CJ, United Kingdom
***********
"I came to see Joel because of my low back pain and the impact it was having on my professional rugby career. I was unable to properly strength train and condition myself for rugby. After an in depth assessment of my low back, Joel was able to show me how to apply the appropriate exercises and movements to my daily routine and training program. They were the simple things performed with perfect execution. The exercises respected my own structure and anatomy. I am now back training and playing rugby and all I can say is 'healthy training, healthy spine!" – Lucas Noguera, Professional Rugby Player, Argentina & Bath, UK
***********
"I had a scan and was advised by a back surgeon that there was little that could be done to ease the pain in my back and that probably in the next 10 years I would need an operation. Luckily for me my personal trainer had read the Back Mechanic and recommended I make contact with Joel.
Joel spent a three hour session assessing the exact issues with my back without even looking at my scan and he was absolutely spot on. He designed a personalized exercise programme and gave me practical tips on how to move sit and stand to enable me to strengthen my back with the aim to significantly reducing my back pain.
6 months later how are things? Amazing! I am pain free and enjoying life to the full. Could not recommend Joel enough for anyone with back pain he has an amazing knowledge of his specialist subject."
***********
"Joel, I am writing to thank you for everything you have done to address my long standing back complaint. The impact has been nothing short of incredible. You will remember when we first met about a year ago that my day to day experience of recurring lower back pain was something I assumed I would just have to live with. What prompted me to consult with you were the frequent episodes of painful back spasms that left me unable to move freely for days or weeks at a time. Inevitably the effect of these episodes would subside over time through rest and inactivity however they would reoccur again at some later date resulting in a stop/start ability to play golf, go to the gym or live a normal life. Over the last 10 years, in an attempt to proactively manage and maintain my back health I had seen numerous back pain specialists and physios, consulted with back surgeons (who recommended an operation) and tried extended periods of Pilates , Yoga and swimming. The activities that most people suggest are 'good' for the back. But nothing seemed to result in improvement. Your initial assessment , considered diagnosis and recommendations gave me great confidence and within a short space of time my back was stable and the pain was gone.
Here I am a year later celebrating the fact that I have not had one episode of back spasm since we met and with no lower back pain. Throughout the year I have been to the gym 3-4 times per week have played golf twice a week ,cycled without any discomfort and even played tennis again .. all without any side effects. With your help I now know what activities to avoid and those that I can undertake without fear .. I feel in control of my back condition in a way I have never felt before. I can't thank you enough Joel" – JF, United Kingdom
***********
"I had suffered from lower back pain and associated sciatica in both my legs for about 15 months when I came to see Joel. I had been hospitalised for several days and was told I would need a microdiscectomy, I was shocked: I wasn't even 30 years old! Month after month the pain escalated and I was at the point where I could not stand or walk for longer than five minutes before the pain in my legs became unbearable. Within a month of seeing Joel and implementing the training schedule he provided I was down to pain in just one leg and I'd stopped taking the cocktail of ever stronger medication I had been prescribed. Within three months I was back on the golf course; by 6 months I had forgotten I had a bad back at all and my life was back to normal. Joel has performed nothing short of a miracle and I cannot thank him enough!" – LJ, United Kingdom
***********
The first thing to say is I like Joel, I like him a lot. When you meet him it's immediately obvious he's a good natured soul, a man you can trust. I went to see Joel last year after years of low back problems and he made an immediate impact on my personal and professional life. After 7 years of pain and lower back spasm he seems to have succeeded were many others failed. The relief I feel is huge. After my initial assessment he assured me that my problems would be manageable if I followed his advice. "I can't guarantee you'll never have another back spasm but I am sure that if you follow my advice you'll have less of them" – he said. I've not had a back spasm since that conversation!
Thank you Joel…I'm immensely grateful. – JG, Documentary Cameraman
***********
"When I went to see Joel, I had lost all hope of getting my low back better. As a competitive Olympic weightlifter, I trained every day and I could no longer do this. After meeting with Joel he gave me a good perspective of what I could do later on. I was so impressed with the way that Joel works and how he explains things, I felt that everything had fallen into place. Working with Joel over the last few months has allowed me to feel normal again and the exercises are really working to make me so much stronger. I cannot wait what the future has in store for me." — SD, Olympic weightlifter, Holland
***********
"About 4 months ago I painfully limped into PerformanceRx to see Joel Proskewitz. I was hopeful that he could help me reduce my leg pain that was originating from my low back. I had read Prof McGill's Back Mechanic book and had been recommended to see Joel by Professor McGill. After a very thorough examination Joel located the source of my pain and so began a series of visits and specific movements & exercises. I am now pain free; able to sleep well at night and hike any distance I've chosen so far. I cannot thank Joel enough for educating me about my back health and for giving me a foundation for a continued pain free existence. It's been life changing!" – HD, London
***********
"When I came to see Joel I had lost all faith in getting my lower back better and being able to return to my love of show jumping again after a nasty horse fall. I had been to see many different consultants and muscular therapists but wasn't getting any better, in fact I was in more pain from doing the exercises they had taught me to do. After meeting with Professor Stuart McGill and Joel Proskewitz I knew I had met the best people. Joel has been absolutely fantastic in my recovery. He has shown me movements that allow me to move and train totally pain free. Joel is extremely smart in how he implements the correct exercises for rehabilitation and performance. Joel has given me so much more confidence in what I am able to do. After seeing so many people, I was very lucky to find Joel." – EG, Showjumper, UK
***********
"At the age of 13, I was the WUKF National Karate Champion. I then fractured a vertebrae in my lower back (L5) which left me in constant pain and unable to walk more than 10 paces without having to sit down. After about 9 months, I was lucky enough to be introduced to Joel Proskewitz. Within a few weeks, Joel's precise prescription of my targeted rehab and conditioning exercises had got me pain free and shortly after I was able to start my karate training again. Joel's constant encouragement and enthusiasm has kept me going and I am now back to competing and being ranked one of the highest karate competitors in the UK. Joel, I cannot thank you enough for all that you have done for me." — MF, UK Karate Champion
***********
"Joel Proskewitz has been a total saviour and I don't know what I would have done without finding a newspaper article about his work. After a thorough assessment, he designed and supervised a series of increasing rehabilitation exercises to alleviate my back problem. In the 15 months since I first saw him I have followed his instructions and have not suffered any further pain – which is incredible. I maintain the program and my back is now stronger than it has been for decades. In my opinion, Joel's knowledge and understanding of musculoskeletal systems and injury prevention whilst exercising is second to none. I am so glad I found Joel Proskewitz." — JP, Sussex, UK
***********
"As a former competitive powerlifter of modest ability but real passion for the sport, low back pain has been a familiar problem, and it had been having a particularly ruinous effect on my training for about two years. It left me frustrated and fairly certain that I would have to choose between pursuing the sport I enjoyed so much, and quitting altogether before it was too late to avoid chronic pain later in life. With Joel's expert advice and guidance I've been able to quickly eliminate my pain triggers, started to enforce good habits, and reconstructed my technique on the competition lifts. I'm confident that I can use what I've learnt to surpass my previous competition total and continue to enjoy a healthy back! – Thank you Joel" – RW, Powerlifter, UK
***********
"I had continuous low back pain for 25 years which finally became unbearable. I was introduced to Joel who was the only person who traced the injury back to my days of rowing while at University. He then changed my exercise regime by removing certain activities and including others. I followed his program and advice to the letter and 6 months later, not only am I virtually pain free, I'm back playing football and even went sculling again this summer. The only part of my body that wasn't in pain after the sculling was my back! I haven't felt better in years. A huge thank you." — PF, London
***********
"4 month's ago, I had a low back assessment by Joel Proskewitz. It was in depth and provided me with a clear understanding of what my pain triggers are and how to avoid them. In that time I have gone from being in constant pain throughout the day to barely noticing any pain. Joel is a very passionate guy, and you know that he genuinely cares about his clients. Having been through two spine surgeries already, I'm grateful to be working with Joel Proskewitz and know that I'm in safe hands for the future!" — RY, London
***********
"When I met Joel I was post back surgery and very low mentally and out of shape physically. Over the course of a year Joel got me fit , strong and above all confident and very body aware. He is without question one of the most well informed , well connected, sensible and top of his game experts in the area of low back rehabilitation. His training skills are effective and challenging yet totally safe and measured. He is a rare breed and I feel lucky to have him on my side." — EC, London
***********
"25 years ago I had an accident in which three discs prolapsed. I was in a cycle of absolute agony followed by a slow recovery period and then I would resume exercise only for my back to "go again" A surgeon offered to do a spinal fusion which luckily I declined. A life of pain killers, physiotherapy, manipulations and injections followed until I read an article in the Daily Mail about Prof Mc Gill in which Joel Proskewitz was featured, this was a life changing discovery for me. After a detailed examination Joel soon pointed out that the exercises given to me by others were actually making my back worse and that by carefully controlled exercise I could resume a normal life. I am now 9 months into rehabilitation with Joel and already the difference is immense, the worst I get now is an ache which I am now able to reduce to almost nil by following Joel's instructions on spine hygiene combined with a specific exercise regime designed for me. A big thank you Joel." — RL, Surrey, UK
***********
"I came across Joel after reading Stuart McGill's book, Back Mechanic. Having gone through two chiropractors, three physios, one osteopath and a private pilates tutor over the course of five years, I had reached a point of desperation and needed to find a solution to my chronic lower back issues. Having been told repeatedly that I had "non specific back pain", it was a huge relief to be told that there was a cause, and it was something that could be rectified. Joel was the first person who really took the time to assess me thoroughly, and it paid off. Within a week, I had experienced my first pain-free day, and this has only increased since. For the first time, I feel like I'm on the road to recovery." — HJ, London
Teaching Testimonials
Joel is a very gifted instructor! In 20 years of taking classes I found him to be one of the best instructors I have ever learned from.
***********
I thought Joel did a fantastic job teaching us. That was the first time I heard him present and I was very impressed. Entertaining and educational. I felt like he met everyone where they were and spent enough time answering questions so we felt confident about the process. There is no doubt he knows his stuff and I left feeling way more confident in the material.
***********
Joel was clear knowledgeable and effective. His ability to share information tips and techniques was excellent. He is an skilled instructor
***********
Liked the level of knowledge, experience and course delivery.
***********
Joel was very well spoken, respectable, answered questions very clearly and his knowledge is incredible.
***********
I loved Joel presenting this he spoke well presented with confidence and you could tell he knew 100% what he was doing and his knowledge. He never made anyone feel silly with questions or intimidated anyone he made us all feel very comfortable and was very professional.
***********
Joel was great. Amazing knowledge and taught with passion and conviction. He was generous with time and answers and helped us to explore our own thinking style to gain the answer.
***********
Loved his passion for the course from the start even if he wasn't feeling great to begin with. Thought he was amazing.
***********
Joel was a brilliant presenter. His way with people is second to none. One of the best presenters I have seen.
***********
I flew 9 hours from Taipei to Mel for the course and my initial thought was that this guy articulates Stu's work very well, however the contents were mostly from the books/interviews.
Its been 3 weeks now that I am back training my gen pop, I find myself influenced more than I realized. I find myself imitating your gestures and speaking in your language (though I teach in Mandarin). The case studies you shared, the practical cues you showed, the principles you instilled, all resonates in my head day in and day out.
I'm very grateful to have the opportunity to learn McGill's work through your professional experiences. You added huge relevance to the contents for me as an S&C coach.
Thank you Joel.
***********