Fix back pain with Back Mechanic
Choose the version suitable to you: the book only -or- the book with NEW video modules.
Back Mechanic Book
$34.95 CDN
All back pain has a cause – your challenge is to identify your specific cause and address it. The modern medical system, with 15 minute appointments does not provide the opportunity for a back pained sufferer to obtain a thorough and precise diagnosis of their pain mechanism. They are left without a guide of what to do to fix their back pain.
Back Mechanic guides you through a self-assessment of your pain triggers, then shows you how to avoid these roadblocks to recovery. Whether you're struggling with a disc bulge, stenosis, spondylolisthesis, muscle strain, or even leg pain associated with a herniated disc, you will be able to wind down your discomfort and match your unique symptoms with the approach that is right for you. Then effective exercises are coached in a step by step progressive guide. Many questions are answered that have eluded answers in the past. Spine expert, Prof. McGill used his 30 years of research findings and clinical investigations to create this evidence-based guide that has helped thousands reclaim their lives. This knowledge is now available to you in this richly illustrated book. You will become your own best Back Mechanic and advocate.
Back Mechanic Book + Video Modules
$64.99 CDN
This enhanced package provides the physical Back Mechanic book (shipped to your address) plus the video access code (1 year access to streamed videos) demonstrating the concepts, the assessments, the movements and the exercises contained in Back Mechanic. Some readers of Back Mechanic have asked for videos to bring the book to life. Over 100 minutes are provided to guide you on eliminating the disability of your back pain.
When you receive your Back Mechanic Book in the mail, there will be an instruction sheet and ACCESS CODE inside that you will need for the Back Mechanic Video Series.
If you have issues with your code please visit our support page.
Back Mechanic Table of Contents
Introduction and overview
The way to a pain-free and robust back
Section 1: "Why me?" Understanding your pain
1. Myth-busting
2. Back to basics: Getting to know your back and causes of pain
3. Is surgery for you?: The essential list
4. The Code: Rules and guidelines for back health
Section 2: Self assessment: Finding the cause of your back pain
5. Use the McGill approach to find your pain trigger
6. Your self-assessment
Section 3: The repair job: Using the right tools to make activity pain-free
7. Removing the cause of pain: Learning basic movement tools
8. Spine hygiene: moving without pain
9. Building a resilient back: The non-negotiable "Big 3" exercises
10. The walking program: Nature's back balm
11. The core program
12. Restoring the hips
Section 4: Tuning the machine for best performance
13. Next level training: Regaining your active lifestyle
14. Special exercises for sciatica, kyphosis, scoliosis, stenosis, the overweight and others
15. Solutions that solve back pain: Case studies and sample programs
16. Q and A with the Professor: Sex, selecting a mattress, and other things you were afraid to ask
17. Conclusion
Appendix: Exercise Logs
18. Pain and activity ability
19. Exercise log
Back Mechanic available in these languages and countries:
French version of Back Mechanic now available!
$34.95 CDN
French version also available in Europe – Purchase Here.
Toutes les douleurs au dos ont une cause − votre défi est de l'identifier et de la corriger. Dans le système médical moderne, les rendez-vous de 15 minutes ne permettent pas aux patients souffrant de maux de dos d'obtenir un diagnostic complet et précis de leur mécanisme de douleur. Ils sont laissés à eux-mêmes ne sachant pas quoi faire pour soigner leur mal de dos. Le Mécanicien du Dos vous guide à travers l'auto-évaluation de vos déclencheurs de douleur, puis vous montre comment éviter ces obstacles à votre guérison. Que vous soyez aux prises avec un bombement discal, une sténose, une spondylolisthèse, une tension musculaire ou même une douleur à la jambe associée à une hernie discale, vous serez en mesure d'associer vos symptômes à l'approche qui vous convient et par conséquent réduire votre inconfort. Ensuite, des exercices efficaces vous seront enseignés afin de progresser étape par étape. Ce livre répond à de nombreuses questions qui sont restées sans réponse dans le passé. Le professeur McGill, spécialiste de la colonne vertébrale, a cumulé ses 30 années de recherche en laboratoire et en clinique afin de créer ce guide fondé sur des preuves scientifiques. Ce livre a aidé des milliers de personnes à se réapproprier leur vie. Ces connaissances sont maintenant à votre disposition dans ce livre abondamment illustré. Vous comprendrez enfin votre douleur au dos et deviendrez vous-mêmes votre meilleur Mécanicien du dos.

Spanish version of Back Mechanic. For North American sales of the Spanish Back Mechanic click here – If ordering from another country please choose from the list below.
Brazil-Portuguese version of Back Mechanic – click here to purchase

Chinese version of Back Mechanic
click here to purchase

Czech version of Back Mechanic
click here to purchase
Dutch version of Back Mechanic
click here to purchase
German version of Back Mechanic
click here to purchase
Greek version of Back Mechanic is now available – click here to purchase

Italian version of Back Mechanic
click here to purchase
Polish version of Back Mechanic
click here to purchase
Serbian, Croatia and Bosnia version of Back Mechanic – click here to purchase

Swedish version of Back Mechanic
click here to purchase
Slovene version of Back Mechanic
click here to purchase
Testimonials for Back Mechanic
Stan Efferding, Worlds Strongest IFBB Pro Bodybuilder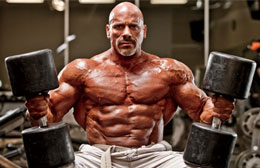 Back Mechanic and Gift of Injury are as much about injury prevention and performance optimization as they are about rehabilitation. And they're not just for athletes. The simple and effective methods provide immediate and permanent results for everyone experiencing pain. Dr. McGill and Brian Carroll are changing lives – mine included.
Phil Simms, Super Bowl XXI MVP, New York Giants
About 6 years ago, my lower back was giving me such severe problems to the point where I wondered if I could still keep working. Then somebody told me about Back Mechanic by Stuart McGill. I read it and incorporated the exercises in that book and it helped me get over my lower back pain. Even today, before every workout, I still continue to do the exercises at a minimum 4-5 days per week. I can't thank this book enough!
Ted Kerasote, Wyoming, USA (Author of some of my favourite books)
After seeing Prof McGill my back has been excellent.  His advice, my continuing the Big 3 core exercises, and using the auto mechanic's stool for my desk have brought about a profound change in my comfort and ability to resume the things I love to do, like hike, ski, and write for long hours.  Advice on recuperating from my lower back surgery was also invaluable. From not being able to walk more than ten minutes without numbness in my right quad (and having to stop and find a convenient rock or bench to hang from), I've gone to hiking more than six hours at a stretch while carrying a 25-pound hunting pack and climbing and descending a thousand meters.  I'm thrilled.  Thank you!  Thank you! I've been recommending Back Mechanic left and right. (Photo by Heather Erson)
Ed O'Neill
/ Actor and Star of "Modern Family" and "Married with Children"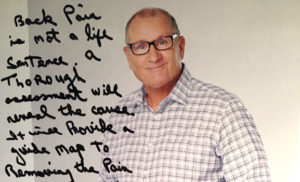 I had low back problems affecting my ability to work and enjoy life. Then I found Stuart McGill and his book Back Mechanic. I was guided on things to do (and not do) and my pain is gone. Professor McGill just makes sense. And he backs it up with science not guess work. I'm giving him and his book Back Mechanic the highest recommendation.
Pavel Tsatsouline, Chairman of Strongfirst
/ Author of Kettlebell Simple & Sinister
Back Mechanic by Prof. McGill is an instant classic. An incredibly detailed—yet free from medical jargon—manual for keeping your back strong and healthy. Plus a wealth of knowledge for athletes looking for a performance edge.