Instructors: Joel Proskewitz
OBJECTIVES
This one day course is for trainers and performance specialists who deal with clients with back pain. Both lectures and workshops provide delegates with background information on the mechanisms that cause back pain and how these can be assessed and addressed with movement and exercise programming that adhere to the principles of Professor McGill. This process creates clients who are then liberated to begin training. Then specific principles are workshopped to create pain-free and injury resilient movement/motor patterns, that enables the trainer to move on to more typical programming.
You will learn:
The tools to train and maintain your clients that were previously failing to make progress

The tools to assist your client to recover from pain
SUGGESTED READINGS
This presentation synthesizes many research articles. Rather than provide an exhaustive list, the interested delegate is encouraged to see them at:
https://www.ahs.uwaterloo.ca/~mcgill/
However, the information has been synthesized into the book Back Mechanic: The step by step McGill Method to fix back pain. This book guides the reader through a step by step method to assess specific pain triggers then remove them from their movement patterns. This is the essential first step to wind down pain sensitivity. Then the foundation for pain-free movement is created.
INSTRUCTORS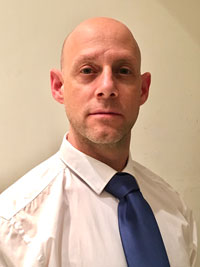 Joel Proskewitz
Mr. Proskewitz has worked with Professor McGill for the past 12 years learning his approaches for assessment and performance training. He is a master trainer based in London UK. Professor McGill regularly refers difficult patients to Joel who assesses the individual to reach a precise diagnosis. Then an appropriate strategy to eliminate the pain triggers to wind down sensitivity is coached. This is followed with an exercise progression to create a foundation for pain-free movement. He has taught internationally with Professor McGill for the past three years. He teaches McGill 2, McGill 3 and the Back Mechanic course.